Welcome to Ontario's Hunter Education Program!
In 1957, Ontario became the first Canadian province to establish a hunter safety training course. Over time the course has evolved into a broader Hunter Education Program.
The Ontario Hunter Education Program will assist you to understand the natural world and become a knowledgeable and responsible hunter. The program provides introduction information about:
ecosystems and wildlife management
hunting laws and regulations
hunter responsibilities
identification, biology, management of and hunting techniques for big game, small game and waterfowl. hunting and survival equipment
the hunter's role in society.
The program also reinforces the firearms safety information contained in the Canadian Firearms Safety Course.
New hunters of all ages must take hunter education training and pass an exam before they can purchase their first hunting licence.
More than one million individuals have successfully completed hunter education training.
Course dates and pricing are available from your local instructor – we ask that you please contact your local instructor directly to confirm course dates and times.
Complete your course?  See "What to do after taking the course" section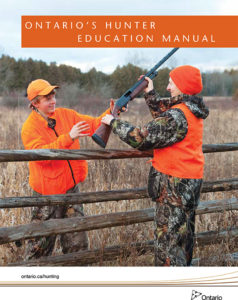 Need to purchase a manual? The 192 page Hunter Education Manual is your first step in learning all about hunter education and safety.
The cost is $21 per manual (price includes HST) plus $7 shipping per online order. They are available in English or French and can be purchased directly online, from your local Hunter Education Instructor or from the Hunter Education department at (705) 748-5785.
Cheques or money orders made payable to OHEP can be mailed to Box 957, Peterborough, Ontario, K9J 7A5.
Phone orders will be accepted with payment of Visa, Mastercard or American Express.
Course / Instructor Search
Find a course or certified hunter education instructor in your area