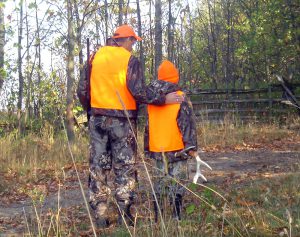 The objective of the hunter orange regulation is to maximize hunter safety without negatively impacting hunting success.
Under this regulation, all licensed hunters, including archery hunters hunting during the gun season for deer and moose, are required to wear hunter orange. As well, all black bear hunters hunting during the black bear season are required to wear hunter orange except when in a tree stand. (This exception is in place because, unlike deer and moose, black bears have colour vision.) Waterfowl hunters, wild turkey hunters and archery hunters in archery-only areas are exempt from the hunter orange requirement.
A hunter orange garment and head cover must be worn. The hunter orange garment must cover a minimum of 400 square inches (2,580 square cm) above the waist and be visible from all sides. Open mesh or camouflage hunter orange must not be part of the 400 square inches. A hunting coat or vest generally meets this requirement. The hunter orange head cover may have: open mesh; a peak or brim colour other than hunter orange; a crest or logo which does not completely cover the hunter orange on the side where it is affixed. The head cover may not contain camouflage material.
Hunter orange colour standards are generally consistent across North America. Manufacturers can provide information regarding clothing compliance with this standard.
Course / Instructor Search
Find a course or certified instructor in your area